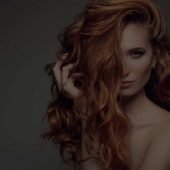 [vc_row][vc_column][vc_column_text]
Our hair goes under numerous agressions on a daily basis by many natural factors like :
Aging
Diets
Breast feeding
Stress
Pollution,….etc
But also synthetic chemical factors like hair dyes, discoloration, highlights, keratin, extensions and Botox.
What's the cure for all these problems ?
A combination of treatments to be applied at the same time every visit.
This treatment can be done at a dermatologist's clinic as well as in an aesthetic clinic.
You can contact me and I'll recommend the closest doctors to you.
This treatment consists of :
1/ Carboxytherapy
It consists of injecting CO2 gas to the scalp ,enhancing blood flow to the area and there for ensuring better nourishment for the hair roots.
The Carboxytherapy magnifies the effect of the next treatment.
2/ Injecting a vitamins cocktail
Personally, I have a customized cocktail of biotin and bepanthen.
There are many other types of combinations that the doctors will provide to you according to your own needs.
We make 2 injections of each in every session to cover all the scalp's surface,followed by an exposure to LED light that will act in two ways :
Allowing the penetration of the active components injected and completing the mesolift therapy.
The LED lamp will emit a yellow light that will stop hair loss and stimulation the hair root metabolism making the hair stronger.
This treatment can be taken every 2 weeks for 3 to 6 months up to 1 year.it's advisable to associate the two cures together every month.
3/ The PRP
The injection of your own plasma offers you many benefits you find explained in the video.
It's recommended to take this treatment every year even if your hair looks healthy.
During the cure make sure you also take vitamins pills to enhance the cure's impact.
If you're going to dye your hair or do some keratin or straightening, make sure you protect it by adding a hair protection product like B3 of Brazilian Blowout or Olaplex.
If your hair is dry ,apply a natural hair mask for 1 to 2 hours before shampooing your hair,or leave it overnight.
We recommend a combination of shea butter,coco butter,argan oil and Aloe Vera gel.
Use a neutral pH shampoo or a shampooing cream.
Wash your hair at least once a week.
Gently put an amount of shampoo in your palm and apply it to your hair with slow motion with your fingers. Don't rub your hair roughly.
After washing your hair,make sure you rinse it with cold water at the end to close the scales and give your hair more glow.
Dry your hair with a towel before blow drying it on medium temperature.
Don't forget to moisturize the tips of your hair.
So there you go, if you follow these advices ,your hair will stay healthy and regain its glow and strength .
[/vc_column_text][vc_btn title= »Free quote » style= »gradient-custom » gradient_custom_color_1= »#0099db » gradient_custom_color_2= »#00cce2″ shape= »square » align= »right » i_icon_fontawesome= »fa fa-envelope-open-o » add_icon= »true » link= »url:https%3A%2F%2Fwww.medesthetic.net%2Fen%2Fcontact-2%2F||| »][/vc_column][/vc_row]