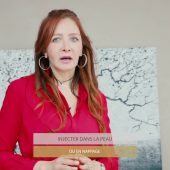 [vc_row][vc_column][vc_column_text]https://www.youtube.com/watch?v=BIHUffbDdMA
Skinbooster is in fact hyaluronic acid that does not have the voluminizing property only its hydrating property :
It gives density and firmness to the skin
It prevents the appearance of wrinkles
It can be used on the face,neck,neckline and the back of the hands starting from the age 35.
It's ideal for :
The young skin and slows the aging process
Damaged ,dehydrated and smoking-intoxicated skin
Post menopause
The skin booster is injected to the dermis layer through a very small syringe(multiple micro-injections spaced by 1 cm from eachother) or in surface by a cannula that allows a homogenous distribution of the product in the dermis.
The anesthetic (mixed with the HA) makes the procedure completely painless.
After 2 to 3 sessions ,the skin is softer because it's hydrated.
The skin becomes fair and glowing , the veins on the back of the hands become less visible,the cheeks become less wrinkled.
The cure is of 2 to 3 necessary session, one to be followed by a second 6 months later.
The skin booster treatment is recommended for all skin types,any time of the year and at all ages,only the frequency of the treatment differs from one patient to another.
[/vc_column_text][vc_btn title= »Free quote » style= »gradient-custom » gradient_custom_color_1= »#0099db » gradient_custom_color_2= »#00cce2″ shape= »square » align= »right » i_icon_fontawesome= »fa fa-envelope-open-o » add_icon= »true » link= »url:https%3A%2F%2Fwww.medesthetic.net%2Fen%2Fcontact-2%2F||| »][/vc_column][/vc_row]